Unlock the transformative power of ketosis, particularly tailored for those stepping into the wisdom of their 50s and beyond, with the VITAL MCT Oil Powder.

Optimal Ketosis & Energy: With the pure synergy of C8 and C10 chains derived from pristine coconuts, our powder ensures seamless absorption straight into the liver, converting promptly into ketones - the body's prime energy source in ketosis. This means enhanced energy and an accelerated transition into the fat-burning mode.

Weight Management & Appetite Control: Our inclusion of bioavailable chromium doesn't just grace the label; it's there for a critical reason - to help you reign in those unwarranted cravings, effectively aiding in weight loss. Say goodbye to spontaneous hunger pangs and hello to a more controlled and efficient metabolic function.

No Cheap Shortcuts: While many resort to carb-based fillers, we prioritize your health by using Acacia, a premium prebiotic fiber, as the carrier. This not only ensures smoother digestion but also bolsters gut health.

Counteract 'Keto Flu' Symptoms: Stepping into a keto lifestyle can sometimes bring the unwanted 'keto flu'. But with the integral electrolytes - sodium and potassium chloride in our mix, combat symptoms like fatigue and headaches, making your keto transition smoother.

Pure & Adaptable: No added flavors. No sweeteners. Our powder's neutral profile makes it perfect to blend seamlessly into your favorite beverages, without altering taste profiles.

The VITAL Promise: Whether you're on a keto diet or not, the health advantages of our MCT Oil Powder can be reaped by all. Especially curated for those in their prime years, it addresses specific concerns faced by individuals over 50, ensuring they're not just living but thriving.
What's Inside Vital MCT?
Vital MCT Wellness is perfect for anyone who wants help to experience:*
A body that may act like a fat-burning furnace — so you LOOK as good as you FEEL
A sharp mind that stays focused
A boost of energy that lasts — even on the busiest of days
A healthy, radiant complexion that seems to "glow" every single day of the week
Manufactured in USA / 90-Day Money Back Guarantee / GMP Certified Facility
*Individual results can and will vary.


Pure MCT Oil with C8 and C10 Chains
Our secret weapon lies in the premium MCT (Medium-Chain Triglycerides) derived from the finest coconuts. But not just any MCT – our formula is enriched with the highly sought-after C8 and C10 chains. These exceptional MCTs are a cut above the rest, easily absorbed by your body. Unlike others, they don't linger in your gut; they take a fast track to your liver, where they're transformed into ketones, your body's preferred energy source. Say goodbye to sluggishness and hello to unstoppable energy!
Chromax® Chromium Picolinate
Struggling to resist those tempting carbs? Vital MCT comes to the rescue! We've included a highly bioavailable form of chromium, backed by rigorous human studies. It's a game-changer for cravings control, appetite reduction, and achieving your body mass goals. Specifically engineered to reduce carb cravings, it's a lifeline for keto enthusiasts looking to cut down on carb intake.
ELECTROLYTES
Keto Flu No More: Ever heard of the dreaded "keto flu"? We understand the challenges of transitioning into ketosis. That's why we've incorporated sodium and potassium chloride, essential electrolytes that help maintain balance in your body. No more fatigue and headaches – just pure, unadulterated vitality.
Top-Rated Customer Support
Top-Rated Customer Support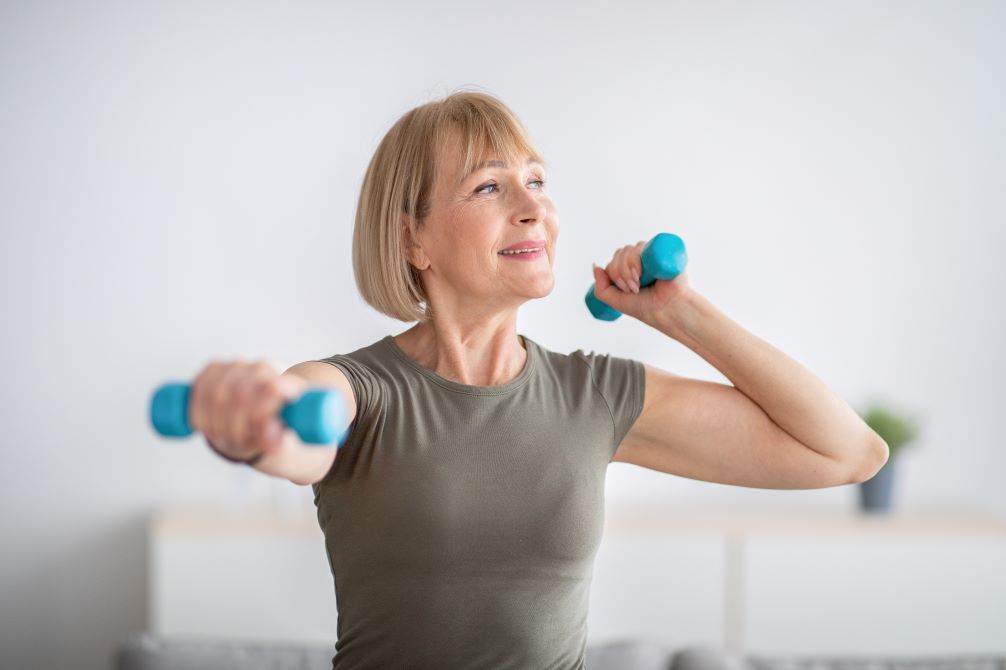 With Vital Muscle Boost, you can regain the strength and mobility naturally lost with age.
Frequently Asked Questions
How much muscle do we lose as we age?

The amount of muscle we lose as we age can vary among individuals and is influenced by factors such as genetics, lifestyle, and overall health. On average, adults can lose between 3% to 8% of their muscle mass per decade after the age of 30. This rate of muscle loss tends to accelerate around the age of 60, and by the time individuals reach their 70s and 80s, they may experience a more significant decline in muscle mass, ranging from 15% to 30%. However, regular exercise, particularly resistance training, and a balanced diet can help slow down the rate of muscle loss and preserve muscle mass as we age.

What are the consequences of muscle loss?

Muscle loss, also known as sarcopenia, can have various consequences on our overall health and well-being. It can lead to decreased strength, mobility, and balance, increasing the risk of falls and fractures. Muscle loss can also result in a slower metabolism, making weight management more challenging. Additionally, it can impact our ability to perform daily activities and affect our quality of life.
Can supplements like Vital Muscle Boost help prevent muscle loss?

Supplements like Vital Muscle Boost can support muscle health and potentially help slow down the rate of muscle loss. Vital Muscle Boost contains clinically tested ingredients, including myHMB® (beta-hydroxy-beta-methylbutyrate), which supports muscle mass and metabolism. However, it's important to note that supplements should be used in conjunction with a healthy lifestyle that includes regular exercise and a balanced diet. Consulting with a healthcare provider is also recommended before starting any new supplement regimen.
How long does it take to see results?

he timeframe to see results when using supplements like Vital Muscle Boost can vary among individuals. It may depend on factors such as age, overall health, exercise routine, and diet. Some individuals may start noticing improvements in strength, muscle mass, and energy levels within a few weeks of consistent use, while others may require a longer period. It's important to maintain a healthy lifestyle, including regular exercise and a balanced diet, to maximize the benefits of the supplement.
Is Vital Muscle Boost suitable for younger individuals or only for older adults?

While Vital Muscle Boost is designed to help older adults preserve muscle and support overall strength, it can also be used by younger individuals who are looking to enhance their muscle mass, metabolism, and energy levels. However, it's always a good idea to consult with a healthcare provider before starting any new supplement regimen, regardless of age.