Discover the powerful benefits of Florasweets Probiotic Chocolate. Packed with 5 billion CFUs of our patented blend DE111, these individually-wrapped, guilt-free chocolate squares support a healthy gut, digestion, and metabolism. Not only do they taste delicious, but they also promote a robust immune system and urinary tract health. Satisfy your cravings with a chocolate treat that's actually good for you. Join our VIP autoship program for monthly deliveries of your new favorite gut health supplement.
Benefits

This probiotic dietary supplement supports healthy digestion, a healthy immune system, and proper metabolism of the components of fat.


This probiotic dietary supplement promotes normal immune functions, including urinary tract health.
Delicious and Nutritious
Florasweets Probiotic Chocolate is a delicious and indulgent treat that also provides the benefits of probiotics, which can help support digestive health and boost the immune system.
High-Quality Ingredients
Florasweets Probiotic Chocolate is made with high-quality, natural ingredients, including cocoa powder and live probiotic cultures, ensuring that consumers are getting a product that is both tasty and beneficial for their health.
Convenient
FloraSweets Probiotic Chocolate is easy to take on-the-go, making it a convenient option for busy individuals who want to support their health and indulge in a sweet treat.
Florasweets FAQ
How is Florasweets different from other chocolates?

Florasweets is unique because it combines the indulgence of chocolate with the benefits of probiotics. Each serving of Florasweets contains over 5 billion live probiotic cultures to support digestive health and immune function.
Is Florasweets suitable for people with dietary restrictions?

Yes, Florasweets is suitable for people with dietary restrictions. It is gluten-free, soy-free, and dairy-free, making it a great option for people with food allergies or sensitivities.
How many calories are in each serving of Florasweets?

Each serving of Florasweets contains 20 calories.
How should Florasweets be stored?

Florasweets should be stored in a cool, dry place at room temperature. It is best to avoid storing Florasweets in the refrigerator as the moisture can cause the chocolate to develop a white film called "bloom" that does not affect the quality or safety of the product.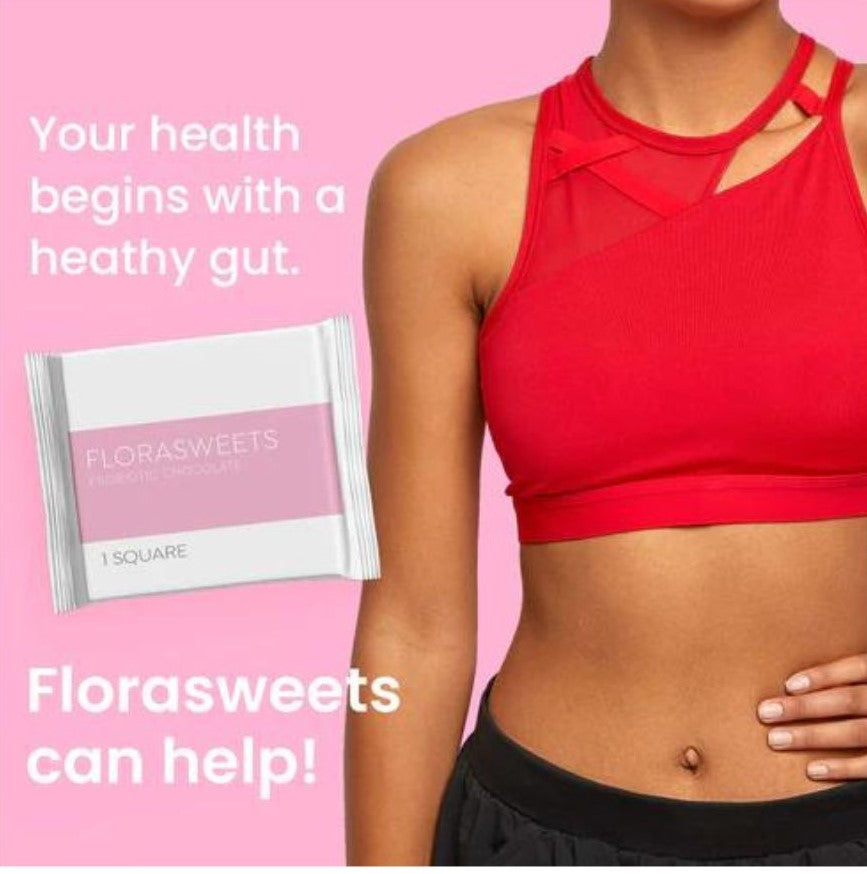 Florasweets Probiotic Chocolate 5 Billion CFU
Hi Holly,
Thank you for taking the time to review your experience using Florasweets! We're so glad to hear that you enjoy our product and the results it has created for you. Our team is delighted to assist you with any further questions you may have by phone at (442) 227-3877 or by email at support@floraspring.com, 24 hours a day, seven days a week.
Have a great day!
Shaun
You Just Have To Try These Probiotic Chocolate!
If you're looking for a delicious way to get your daily probiotics, these probiotic chocolates are the way to go!
They're a great addition to any wellness routine, and I've noticed a big improvement in my digestion and gut health when I take them regularly.
Plus, these delicious chocolates come in perfectly portioned and individually wrapped square packets making them perfect for taking with you to work or when you are on the go!
10 out of 10 I would recommend; these are a must-try!
Highly Recommend - Chocolate Probiotics
These Chocolate probiotics are a staple in my everyday wellness routine. I have felt a difference in my digestion and overall gut health when I am taking them consistently.
Such a delicious taste, and so fun! Can't think of a better way to get my daily probiotic! These are melt in your mouth packet squares - brilliant for on-the-go travel!
I would highly recommend :)