What Is Total Glow Restore?
Experience the pinnacle of skincare innovation with Total Glow Restore, a revolutionary formula designed exclusively for women over the age of 50. Crafted to perfection, this face cream surpasses all others as it boasts an astounding 99% pure, cosmetic-grade Bakuchiol at an unparalleled potency of 6%.

Indulge in the luxurious texture of our highly-absorbable cream that effortlessly caters to all skin types. Gentle and nurturing, Total Glow Restore is particularly advantageous for those with sensitive skin who yearn for a revitalizing touch. With every application, feel its harmonious blend replenish your complexion, infusing it with luminosity from within.

Rest assured that our commitment to your well-being extends beyond mere effectiveness. We believe in providing you with utmost care by meticulously excluding harmful chemicals and preservatives from our formulation. Say farewell to PEGs, SLS, SLES, parabens, and mineral oil – they have no place in Total Glow Restore's rejuvenating journey towards radiant skin.

Elevate your skincare routine to new heights with this all in one peptide one wrinkle cream by Total Glow Restore - where sophistication meets efficacy seamlessly. Discover timeless radiance today!
14 CLINICALLY-STUDIED INGREDIENTS FOR BETTER SKIN HEALTH
Total Glow Restore™ is a superior alternative to Retinol, offering all the benefits without any drawbacks or side effects. By stimulating collagen and elastin fibers, it effectively treats existing wrinkles and prevents further wrinkling.
Revival Point™ uses the power of 14 ingredients, backed by strong, double-blind clinical studies to boost smooth, supple, youthful-looking skin. Only these highly-vetted ingredients should be trusted and are most likely to be effective for you.
Sytenol A® Bakuchiol
The first and only "Bakuchiol" on the market, clinically proven to reduce multiple signs of aging. What makes it truly special is its unique extraction process, resulting in 99% pure Bakuchiol - the purest form available. And with an impressive strength of 6%, Total Glow Restore contains the highest-known concentration of Bakuchiol in the world.
Neurotransmitter Peptides
These types of peptides are shown to have a "Botox-like" effect that can help reduce the appearance of wrinkles, and laughter and worry lines.
Sunflower Oil
Rich in antioxidants, this seed-based oil can help your skin lock in moisture. This gives your skin a healthier appearance, and can help reduce the appearance of wrinkles and fine lines.
Jojoba Oil
Some oils may not be good for all skin types. But Jojoba is very similar to the oil your body naturally produces so your skin recognizes it and absorbs it nicely. That's why dermatologists recommend Jojoba oil for all skin types.
Methylsulfonylmethane
Called the "beauty mineral," this naturally-occurring mineral can promote collagen production, reduce irritation, and promote circulation, which can help retain and even regain skin tightness.
Sodium Hyaluronate (hyaluronic acid)
Binds to water from the air and pulls it into your skin so it stays soft, supple, and hydrated. A 2019 report shows Sodium hyaluronate can provide a greater hydrating effect than Hyaluronic acid because of its low molecular weight. This makes it small enough to penetrate the top layer of the skin and boost hydration at the source.
12 Week Results From Real People
The Amazing Untouched Before-and-After Photos From Our 12-Week Research User Group
These images were taken at our in-house studio, using high-definition cameras and professional lighting. They're 100% natural. NO photoshopping, retouching, filters, or image processing. The images on the left are the "before," and on the right is the "after."
"Feel More Youthful"
It's made my skin soft and supple. It goes on smooth, absorbs quickly, it's not greasy. I had a big wrinkle on my forehead and it has DISAPPEARED! Yesterday my daughter took me to lunch and she said, 'WOW, Mom!You really do look younger!' "

Mary, 61, San Diego CA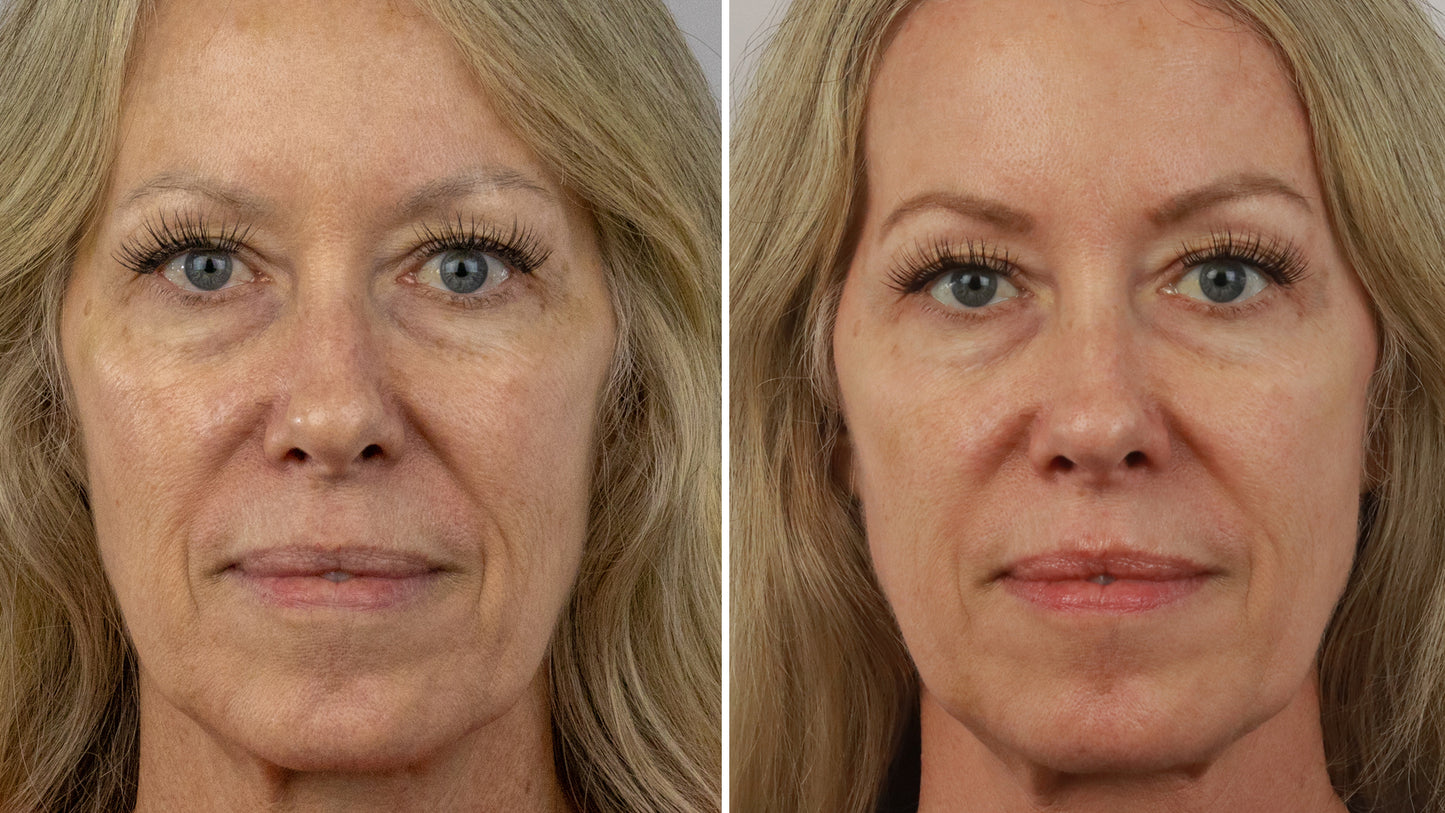 "I Actually Saw A Difference"
I've tried SO many different drugstore products and really high end products from department stores… but I was not satisfied with the results. This actually made a difference! My skin felt smoother, clearer, soft, and supple… kind of 'dewy.' Honestly, I just feel like it lookslooks more youthful. I absolutely LOVE this!"
Amanda Dill, 56, San Diego CAmore more
"People keep asking me, 'How old are you?? Oh, wow! You look beautiful! Look at your skin!!!' The number one thing I've noticed is that it gives my skin an overall GLOW. And I've seen less lines around my mouth, forehead, and crows feet."
Elaine Hill, 69, Chicago, IL
Top-Rated Customer Support
Top-Rated Customer Support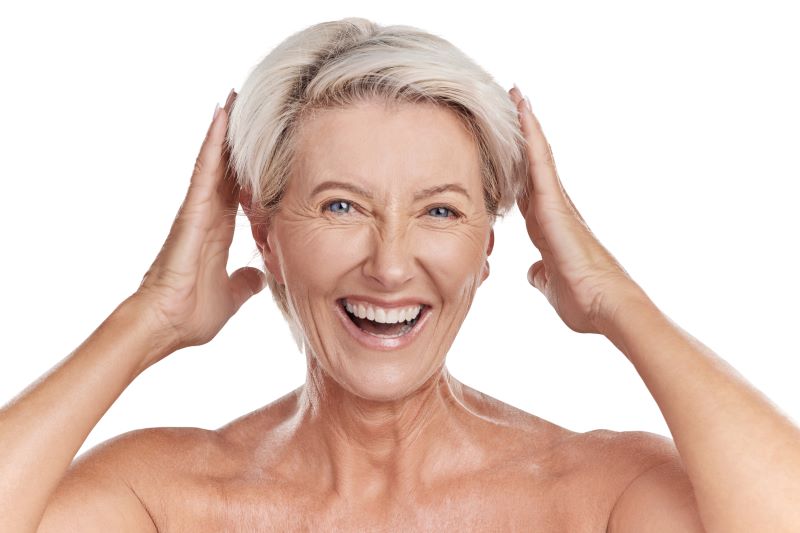 Feel a sense of confidence and pride, knowing that your skin looks as youthful as you feel inside.
AMAZING - I SAW A DIFFERENCE MINUTES AFTER
I saw a difference 5 minutes after using this, it felt so supple, and hydrated. i like that its lightweight but the feeling doesn't last too long so i felt i had to reapply 2 hours later, but i am suprised how well this works. I don't think the label shows how well this works.
Hi Giselle,
Thank you for taking the time to review your experience using Revival Point products! We're so glad to hear that you enjoy our product and the results it has created for you. Our team is delighted to assist you with any further questions you may have by phone at (442) 227-3877 or by email at Help@revivalpointlabs.com, 24 hours a day, seven days a week.
Have a great day!
Shaun
Total Glow REstore Frequently Asked Questions
What is Total Glow Restore™, and how does it work?

Total Glow Restore™ is an advanced Bakuchiol skincare product designed for aging individuals. It's a superior alternative to Botox, offering all the benefits of Retinol without any drawbacks or side effects. It's the first and only health and beauty company to formulate a cream with 99% pure, cosmetic-grade Bakuchiol at 6% potency – the highest levels of Bakuchiol in a skincare product.
How do I use Total Glow Restore™ in my skincare routine?

For best results, use Total Glow Restore™ as part of your evening skincare routine. Apply a small amount to clean, dry skin, focusing on areas with wrinkles or fine lines. Gently massage it in, allowing it to absorb fully before applying any other skincare products. Use sunscreen during the day when using this product as it can make your skin more sensitive to the sun.
Total Glow Restore™ suitable for all skin types?

Yes, Total Glow Restore™ is formulated to be suitable for all skin types. It comes in a highly-absorbable cream that works for all skin types, and is especially beneficial for sensitive skin.

However, if you have particularly sensitive skin, it's a good idea to perform a patch test before applying it to your entire face. If you experience any irritation or discomfort, discontinue use and consult a dermatologist.
How long does it take to see results?

Multiple clinical studies have shown that Total Glow Restore™ can help smooth, firm, and enhance your skin's glow in just 12 weeks. The results from our 12-week research user group, featuring untouched before-and-after photos taken with high-definition cameras and professional lighting, highlight the natural efficacy of this product.

While individual results may vary, many users have reported noticeable improvements within a few weeks of regular use. For more significant and sustained results, it is recommended to use Total Glow Restore™ consistently over the course of 12 weeks. Remember that skincare outcomes can depend on factors such as skin type, age, and individual skin concerns, so continued use and patience are key to achieving your desired results.
Can Total Glow Restore™ be used in conjunction with other skincare products?

While Vital Muscle Boost is designed to help older adults preserve muscle and support overall strength, it can also be used by younger individuals who are looking to enhance their muscle mass, metabolism, and energy levels. However, it's always a good idea to consult with a healthcare provider before starting any new supplement regimen, regardless of age.
Can I use Total Glow Restore™ along with Deep Skin Restore supplements for the best results?

Yes, using Total Glow Restore™ in combination with Deep Skin Restore supplements can be highly beneficial for achieving comprehensive skincare results. While Total Glow Restore™ provides topical support by stimulating collagen and elastin fibers, Deep Skin Restore supplements work from the inside out to nourish and revitalize your skin.

Here's how the combination works effectively:

Total Glow Restore™, when applied externally, targets wrinkles by stimulating collagen production and promoting skin elasticity. It also offers antioxidant protection to combat environmental damage. Additionally, it provides hyaluronic acid hydration to keep your skin moisturized and supple.

Deep Skin Restore supplements, on the other hand, provide your skin with essential nutrients and antioxidants from within. This comprehensive approach helps combat the signs of aging by boosting collagen production, offering antioxidant protection, and providing necessary hydration.

By using these two products together, you're addressing skin aging from multiple angles, maximizing your chances of achieving a youthful, radiant complexion. However, it's essential to follow the recommended usage instructions for both products and consult with a healthcare professional if you have any concerns about combining skincare products and supplements.