Experience the incredible power of Ultra Roe Omega, a top-notch Omega-3 supplement that will take you to the next level. Setting Omega Rue apart is a two-word equation: source and bioavailability. This dynamic duo results in maximum absorption of essential nutrients and minerals, providing a superior supplement experience.
Our supplement is powered by Romega Herring Caviar Oil, an extraordinary source of Omega-3s sourced from the unpolluted waters of Norway—clear of the effects of climate change.. Unlike regular fish oils that are less efficiently consumed in triglyceride form, Romega's Omega-3s are sourced directly from phospholipids, a discovery that has revolutionized the industry due to its unprecedented bioavailability. Clinical research has demonstrated that this phospholipid form of Omega-3 is absorbed twice as effectively over a 12 hour period compared to its traditional triglyceride-based counterparts.

Ultra Roe Omega offers more than enhanced uptake of nutrients; its specialized phospholipid delivery system allows DHA to pass through the blood-brain barrier, vital for preserving brain wellness, especially as one gets older. Furthermore, Ultra Roe Omega is enriched with choline, phosphatidylcholine, and unique pro-resolving mediators (SPMs), nutrients rarely present in alternative Omega-3 supplements, which improves brain functioning and cellular metabolism while mitigating inflammation.
Elevate your Omega-3 supplementation with Omega Rue, and experience the benefits that only a premium source and advanced bioavailability can offer.



Benefits of Ultra Roe Omega
Healthy Aging = Healthy Cells
Ultra Roe Omega contains a full spectrum of membrane lipids that make up every living cell, supporting structural integrity and cellular communication 2.
Easier to Digest, No Fishy Burps
Our phospholipids act as natural emulsifiers, ensuring rapid mixing with gastric juices and eliminating the fishy aftertaste common with other Omega-3 supplements.
Efficient Nutrient Transport
Phospholipids travel directly to the liver for immediate nutrient transport, compared to Triglycerides which may get lost in the lymphatic system.
Top-Rated Customer Support
Top-Rated Customer Support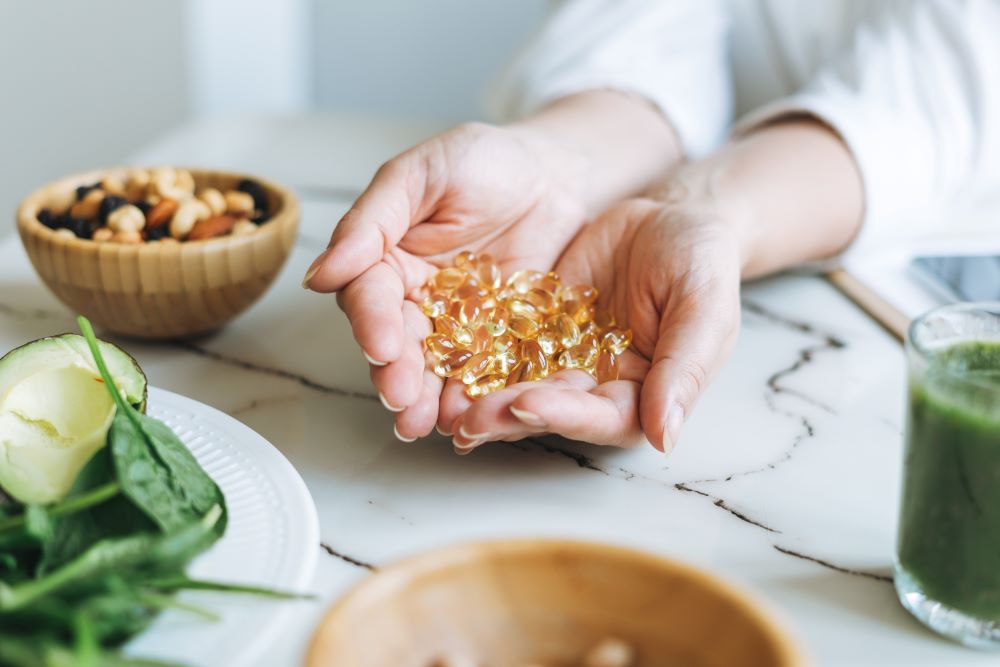 Who Should Take Ultra Roe Omega
Individuals focused on Brain Health
Those seeking Anti-inflammatory Benefits
Anyone looking for a more Bio-efficient Omega-3 Supplement
Ultra roe omega frequently asked questions
What sets Ultra Roe Omega's omega-3 apart from other omega-3 supplements

Ultra Roe Omega contains omega-3 fatty acids sourced from premium herring caviar. These omega-3s are in a phospholipid form, which is twice as bioavailable as the standard triglyceride form found in most other fish oils. Additionally, the supplement contains Specialized Pro-Resolving Mediators (SPMs), which are naturally formed metabolites that have been shown to support the resolution of inflammation before it can become chronic.
How does Ultra Roe Omega contribute to healthy aging?

Our product contains a variety of membrane phospholipids that are key components in cellular structures. As we age, cellular integrity is crucial for overall health. Ultra Roe Omega provides the necessary elements to maintain healthy cells and cellular communication.
Is Ultra Roe Omega effective for brain and retina health?

Yes, the DHA found in Ultra Roe Omega is actively transported across the blood-brain barrier, making it highly effective for brain and retina health.
Is the omega-3 dosage in Ultra Roe Omega adequate?

Absolutely, the recommended dose of Ultra Roe Omega is at least 1000 mg daily. This is based on research which indicates that a dosage less than this may not provide clinical benefits.
Is the quality of the herring caviar used in Ultra Roe Omega tested for rancidity?

Yes, we employ rigorous rancidity testing to ensure that our product is of the highest quality.
How does Ultra Roe Omega compare to competitors?

While these brands offer quality products, Ultra Roe Omega sets itself apart with its premium source of herring caviar omega-3s in phospholipid form, its naturally formed SPMs, and its focus on long-chain omega-3s for maximal benefits.
What makes Ultra Roe Omega's DHA more effective for brain health?

DHA in our supplement is bound to Lyso-Phosphatidylcholine, which is actively transported across the blood-brain barrier, making it a more efficient delivery system for target organs like the brain.
Do I need to worry about temperature control during shipping?

Yes, Ultra Roe Omega is sensitive to temperature and should not be left in hot environments like a mailbox, as it could go rancid.
How should I store my Ultra Roe Omega supplement?

It is best to store your supplement in a cool, dry place to maintain its efficacy and prevent rancidity.
No FISH AFTERTASTE!
Received to use as a sample and it's one of the only omega 3 supps that have non fishy aftertaste. It provides the same benefits of krill oil without the guilt. Herring is an abundant species of fish, and the herring in this product comes from an independently certified sustainable fish which is the reason i tried it. So far so good and I can't wait to see if helps with my skin.